Ok, so this isn't one of those "little things have big impacts" kind of stories, though it sort of is. It's a "help from unexpected sources" story more than that. In a really stupid goofy way. Some background:
1) My friend Nathan bought me a subscription to LootCrate. I've raved about that before, but let me do it again. We weren't ever really the best of friends or anything, just work friends, and we lost contact for a few years. Like ya do. When he found out about my diagnosis, he bought me this subscription so I could have something fun to look forward to every month. It was an unexpected surprise and I can't even remotely convey how much joy this brings me, for a lot of reasons.
2) LootCrate is a collection of VERY geeky things, from all kinds of fandoms. I've gotten t-shirts from Teenage Mutant Ninja Turtles to Overwatch to James Bond and everything in between. It's current pop culture and retro childhood stuff, and I've gotten a lot of really awesome swag, including stuff you literally can not get anywhere else. Tetris fridge magnets. A Tron pencil bag that glows in the dark. SO MANY TOYS. And awesome aforementioned t-shirts. Like, half of the t-shirts I wear are now LootCrate shirts.
So this month's crate theme was "animation". It included swag from a couple of things I'm not that into (it happens, but I ALWAYS find someone who really loves said fandom and is happy to take things off my hands), and drink koozies from the show Futurama. Full disclosure? I've always kinda hated drink koozies. They strike me as a bit white trashy and that's not helped by them USUALLY being branded with some stupid or plain offensive not-really-a-joke. But I loved Futurama, and this was a fun thing, and I'm ALWAYS drinking soda (Sorry Kelly, I know I need to be drinking water but CHERRY COKE ZERO IS DELICIOUS), so I slid my can into one.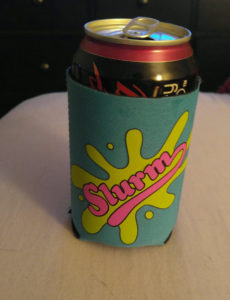 Oh my god guys.
THE CAN IS SO MUCH EASIER TO PICK UP.
I typically have to use two hands to pick up a full can of soda, and as I drink it, I press a dent into the can to help me grip it. Hang on..lemme take a picture.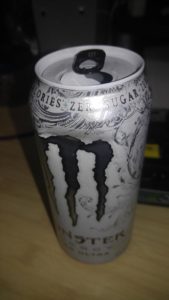 Every can I drink from has that little divot for my thumb. heh. But with the drink koozie, I don't need it! It's squishy so I can get a good grip on the thing without leaving a little dent in. I bet Nathan never knew he was signing me on for handicap aids. But that's what I got this month, and I never would have figured this out on my own.
So that's a happy thing that happened.