Long before I was bestowed with the cosmic middle finger that is ALS, I was gifted with a genetic grab bag of fuckery called ectodermal dysplasia. (There's GOT to be a cousin-marriage something or other back in my genealogy, because COME THE FUCK ON. My DNA is FUCKED. ) Anyway. I promise this is related to ALS, but I need to give you a bit of backstory.
Ectodermal Dysplasia, for those of you that can't be bothered to google that shit, is a family of genetic disorders that causes defects in the hair, nails, sweat glands, and teeth. I have a VERY VERY mild case. Some people with these disorders are born with no sweat glands and have to wear cooling vests their whole lives, or have webbed fingers and toes, or no hair at all. I can sweat, I have some if not all of my teeth, I have hair at ALL, I'm ahead of the game. I am very fortunate that I was affected as little as I am.
But growing up with it as a kid?
Brutal.
My hair grew in transparent blonde and sparse, and only ever to about 2 inches long. Except on the sides of my head, that grew up to four in wispy little threads that flew away from my skull like feathery peachfuzz wings. When it got wet, it disappeared. My eyebrows were transparent blond, visible only when I got really angry and redfaced, so they stood out white on my face. My teeth grew in all kinds of crooked and brittle and some never grew in at all. My nails are these paper-thin shreds of nubbins. I was a very weird looking kid.
Fuck, man, you know how kids are little shitheads. I had the nickname Bald Eagle in my neighborhood. The older kids would see me coming and yell, "THE EAGLE HAS LANDED!" and run away. When I was in fourth grade, one of my girl classmates confided to me that one of the boys (that I happened to have a crush on) thought I *could* be cute – if I would just do SOMETHING to my hair, because it looked weird. I had a crooked, gappy smile that I hid behind my hand when I laughed. I had an expressionless face, because my eyebrows were THERE, they were just transparent. Even the adults joined in, unwittingly, mistaking me for a boy until puberty offered evidence to the contrary. I went to a flea market once, when I was about 8 or 9, and I was looking at this vendor's pretty little necklaces and things, and the shopkeeper came over smiling, "Looking for something for your girlfriend, hmmm?" I was too embarrassed to correct him. When visiting my great grandmother, making the obligatory visit to her next door neighbor Mrs. Day (who always had Grandma Candy) I smiled and thanked her when she told me I was growing up to be such a big boy.
As you could imagine, I had a little bit of a gender issue growing up. It didn't help that I have NEVER been good at "girl"; I really WANTED to be feminine and cute, but I felt like I was putting on an awkward costume that didn't fit any time I tried. I was a social weirdo and never learned makeup or dressing girly, I felt awkward and weird, this androgynous thing that didn't fit in anywhere. I was already Strange, my brain full of ideas that didn't occur to most, a very intelligent and bored kid, standing out because I was a loner and never felt like I belonged to any of the little school cliques, not even the nerds. I was the weird kid in the back, and weird looking to boot. No seriously. Here's me at 14, never having had a haircut in my life: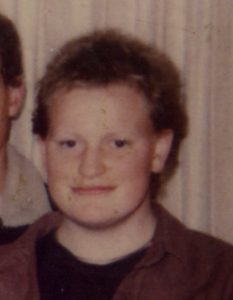 My self confidence and ego never really had a chance.
Eventually I taught myself to embrace that weirdness and make it seem intentional – I dyed my hair strangely and scowled at everyone so they'd think that I MEANT to look that way. Androgyny was cool if you were a punk, man. Or something. I learned to hide it by being angry. I wore that anger as a shield, protecting the hurt and lonely little girl inside. The Bald Eagle is still a fucking RAPTOR man, and it will GOUGE YOUR EYES OUT AND FEAST ON YOUR LIVER. (Oh, poor, 16 year old me; I wish we could chat. How desperately you needed a hug.) But the anger just made me look weirder. My defiant, thrust out jaw just made my face square. My heavy lined eyes just made my invisible eyebrows more obvious. And I never smiled so no one would see my crooked teeth. And weird hair looks weird even if you try to make it look like you meant it.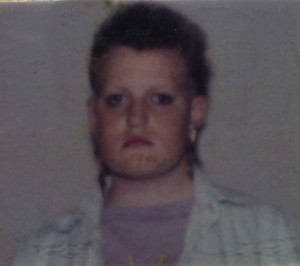 It took me a lot of years to work through that anger, slowly discovering and adding weapons to my arsenal in my Battle to Defeat Ectodermal Dysplaysia. Eventually I learned to draw on eyebrows to fix my expressionless face. To use false nails to hide and protect my little paperthin fingernails and have pretty, feminine hands at last (they were the one part of me I thought were pretty). I was introduced to hair extensions, after an unsuccessful flirting with wigs, and eventually I even came to revel in my ability to change my hair in a moment's notice with them. Long hair today, short hair next week, long again the month after that. Through all of this, I let go of that angry teenager, who in turn stopped shielding the lonely and awkward little girl. I learned to allow myself to be a little bit feminine and dress like a girl sometimes, because I actually AM female, goddammit. And it looked cute on me.
And then I had good enough dental insurance to fix my crooked smile and have a beautiful smile for the first time in my life. That was a goddamned game changer. My brothers and I have all suffered the same over our crooked, missing, brittle teeth (I have the better teeth out of all three of us, but got totally ripped off in the hair department). All of us have dealt with being asked if we've ever used meth. By dentists. Having methmouth when you've never even so much as smoked pot or had an alcoholic drink makes you self-conscious as shit. And it's cost all three of us countless opportunities. No one wants to hire a methhead. No one wants to date a weird looking girl with a wonky smile. So when I could afford to bridge the gap in my smile, to have straight teeth, I actually felt more normal and okay than I ever have in my life. I went from this:
to this:
And my world changed. And I felt like I finally won.
What does all of this have to do with ALS. I know. Relax, Sparky, I'm about to get there.
It was a slap in the face to be diagnosed with ALS RIGHT when I thought I had all my shit together. I had a really good job that I really like, I was financially stable. I had just bought a house like a Real Live Grownup. And at last? I was at a really good weight, my teeth were awesome, I knew how to do makeup sorta, my nails looked fantastic, and goddamnit I was PRETTY. FUCKING FINALLY. It took 38 motherfucking years, but I actually felt pretty, and smart, and stable. A Real Live Person Who Doesn't Suck. I still had some shit to sort through, but I was doing pretty fucking good, all told.
…And then just when I think I have shit solid and good, ALS fucks it all up. I'm not going to be able to do my awesome job that I like, working with people I love, eventually. I have to sell the house I am in love with and didn't even get to finish decorating because I can't deal with stairs for much longer. I gained a fuckton of weight back because of my good friend Stress Eating. Hey, did you know there's a German word for the weight you gain from emotional eating? Kummerspeck. It literally translates to "grief bacon". Isn't that the most AWESOME THING EVER. I mean, the weight gain sucked, but there's a WORD FOR IT. And then being told by doctors DO NOT LOSE WEIGHT, you're going to need it later, and people with extra pounds just tend to do better with ALS anyway. So here is your medical prescription to EAT WHATEVER YOU WANT. Don't go all apeshit, I mean, we don't want to have to fit you for a bariatric wheelchair, but you're dying, fuck it, eat those nachos. Sucks about the not fitting into your clothes anymore though, yeah? Don't worry, eventually you won't be able to eat except through a tube and you'll fit into all that again. So it all works out, yeah?
Where was I.
Right. Early on, it hit me, something stupid and vain – eventually I'm not going to be able to draw my fucking eyebrows on anymore. And I think I've just TOLD you why, that bothered the ever loving fuck out of me. I could rely on people to get me dressed, and probably put makeup on my face, but there were going to be days when none of us could be bothered to do that shit. And it really fucking bothered me to be reduced back to my 14 year old self. I had just CONQUERED that, I am not HER anymore. But I'm not going to be able to put on this Armor of Normal Seeming (+1 to appearance and +3 to charisma) forever. Towards the end of days, I'm going to be this emotionless husk, and I'm not even going to have any fucking eyebrows.
And it's expensive, and vain, and fuck you I don't care. I got permanent cosmetic tattooing done on Wednesday. I paid a stranger $395 to tattoo eyebrows on my face. And it looks fucking awesome.
And I can't quite articulate the sense of..relief? Success? Booyah? Even though it was expensive and there are SO MANY better uses for the money, there's a weight off of me with the knowledge that I can't go back to 14 year old me anymore. I'm permanently done with her. My teeth are permanently okay, even if I DO still have a baby tooth on the bottom and not all of them ever grew in, they look like normal people teeth when I smile. And now my face is permanently okay, because I don't have to draw on expression every day. What was already there has been highlighted, so when my hands no longer work, I can still quirk my eyebrow when you say something stupid. For awhile. And then I won't be able to move my face at all, but my eyebrow game will still be fucking strong, yo. And I'll never be that expressionless, angry little girl again. I've graduated, the tattoos on my face a diploma from Fuck That Shit University, signifying a degree in Being Just Fine, Thanks for Asking.
I am gonna go down, ALS is eventually going to kick my ass, but Ectodermal Dysplasia can fuck off forever. I beat it. I win.
The Eagle has fucking flown.