I imagine a lot of people out there share my weekly regime of tipping pills from many bottles into little plastic containers that mark the days by day and night. Times were, I took nothing (though my recurrent anemia said I really ought to be taking iron, and my living in Oregon says some vitamin D would be good). Occasionally I'd get a wild hair and buy some supplements and taking them maybe a week or two before I tired of it. I don't have the luxury of tiring of it and setting the pills aside anymore, so once a week, I pull many bottles off of the apothecary shelves, and count them out into little daily pods.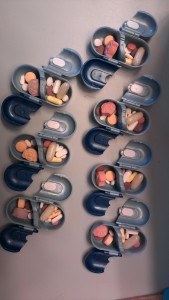 9 in the morning. Gabapentin (twitches/cramps), riluzole (the only ALS drug), buproprion (for depression), armodafinil (for energy), citalopram (for anxiety), ranitidine (for heartburn caused by these pills), vitamin D (for missed sunshine), coconut oil (because maybe it helps, studies are out). Usually magnesium (for muscles and nerves), but I'm out of it just now.
At 2PM, another gabapentin.
When I get home, another riluzole and buproprion. Also vitamin C, iron, and a multivitamin (because you know why). Yes that is a children's chewable. Deal with it.
At 10PM, another gabapentin.
5 of these are to deal with effects of ALS. One is to counter the effects of the drugs I take to deal with the effects of ALS. And then supplements, because my body needs all the help it can get. So many pills, and I have never calculated how much this costs me per day. Maybe I ought to. I'd probably be afraid. And then there's the three optionals I have; cyclobenzaprine (for really bad headaches and stress tightness), lorazepam (for when I start to freak out), and zolpidem tartrate (for when I can't sleep). I don't take those very often. The cyclobenzaprine (flexeril) is an emergency maneuver – I'm prone to headaches and this is for when they last for days and for fucks' sake I just want to relax and sleep. The lorazepam (ativan) is usually taken as a preventative when I am going in to a stressful situation (why hello, legal paperwork regarding my death) or when I have panic attacks. And I've had the zolpidem tartrate (ambien) on prescription for ages because I sleep for SHIT. But I rarely ever take it, one bottle of 30 of them lasted me nearly 6 months. They're also an emergency maneuver (hello, trying to fall asleep with CPAP for the first time), reactionary rather than preventative.
And there is another one out there. A possible addition to my chemical combination.
It's called GM604. There has been a very limited trial, it's still crazy early, but they've shown it to slow the progression of the disease, and even one specific trial showed a minor return of ability. As you might expect, there are a lot of people trying to get it fast-tracked through FDA approval. There's a petition here, and a Google Group here. The company producing it is called Genervon, which sounds like something Transformers use to make new Transformers. They've been keeping the world aware of their progress through press releases.
At the moment, Genervon is awaiting a decision from the FDA. If they're approved, GM604 will be available and covered by insurance. If they're not, they must continue through Phase 3 trials, which even at an accelerated rate that the FDA has promised will still take 3 years. Which means most of the people alive with ALS today will not live to see it. There really hasn't been enough evidence, though, that it works. There's enough evidence to prove that they should keep studying it, and have further trials, definitely. But not enough to prove it works.
The MS/ALS news magazine, the ALS Therapy Development Institute, and The Robert Packard Center for ALS Research at Johns Hopkins (yeah I totally cut and pasted that from the website) and many many others are watching this with cautious optimism, but not committing to either endorsing or condemning the drug. They want more trials to make certain it's safe.
"Wait and see."
"But we QUITE LITERALLY DO NOT HAVE THE TIME TO WAIT," says just about everyone with ALS or caretaking someone or in the Silk Circle somehow. "GIVE US THE DRUG."
"We don't have enough tests to prove it's safe," says the FDA.
"What's it gonna do," ALS peeps say, "kill us!?"
And so the world waits. Maybe this is a miracle drug. It's certainly not a cure, but it may be a substantial step.
Next stop: someone stealing the formula from Genervon and producing it in Mexico. Cue many, many ALS peeps taking vacations in Mexico. Because they just want to live awhile longer and will risk anything to get it. Their life is literally on the line.
I don't know how I feel about it either way, to be honest. My progression might be slow enough that I'll live to see the results of that trial. But I also fully identify with wanting to take a chance, if it means more time. More ability. More quality of shortened life. I've already said I would participate in trials, and I meant it. If I can create clinical data for this drug by taking it and checking in with doctors, sign me up. If it kills me faster, well, now you have a data point. And if it doesn't, you also have a data point. From a medical trial standpoint, you win either way. From my standpoint, I might come out better than I went in. Or I might die, which I was going to do anyway. I definitely want to see more testing. Either controlled by the FDA or released into the wild and see what happens.
I'm excited that there is SOMETHING happening, in any case. Even if it's potentially one more pill in my cases.