Speaking of cards!! You may remember a conversation I had with my dear friend Megan about playing the "I'm dying" card, and she decided to needed to make me actual cards with various demands.
GUESS WHAT.
SHE MADE ME THE CARDS.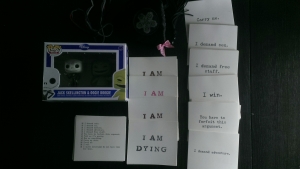 She and her fantastic husband Colin actually made me the cards. They are a physical thing. They are sparkly embossed and amazing. They ALSO gave me the Jack Skellington and Oogie Boogie figurines you see (and I heart them SO HARD) and the black heart decoration which does not at ALL show up in this picture. But it is soft and awesome.
Megan is one of the most thoughtful people I know. She once made me a little box of lip cutouts that she'd kissed with lipstick on, for when I need smooches and she is not there to give them. I can't tell you how amazing she is. Her husband Colin, who I've known just as long, is also amazing and full of love. He is the perfect partner in crime for her and I love them more than I can ever possibly tell you.
And THIS, THIS is how I survive with a smile. I am orbited by planets of awesome, and the pull of their gravity keeps me from collapsing in on myself.
I love these cards and I am looking forward to the looks on people's faces when I actually use them. I love the people who made them. I love the people who gave suggestions for them. I love that I have such amazing people in my life. I love that my diagnosis has shown me exactly how loved I am, and how completely I am surrounded by the brightest and best people in the universe.
I love my life, ALS and all.