So uhhh I have my port installed. It was …an adventure. Lemme tell you all about it!
When last we left our intrepid heroine, she had a really nasty reaction to the adhesives on her PICC line dressing. We moved to a different type of dressing that didn't adhere for shit. The day I was done with the 14 day initial run, my awesome home infusion nurse came by to change the bandaging. She recommended we get the PICC pulled ASAP so I could get the dang adhesives off my skin.
It took a little convincing to get the nurse to refer me for a port; she was concerned that if I had a reaction to the adhesive as it was, having a port would be just as bad. I was concerned about not having tubes sticking out of me at all times; at least the port would give me a 2 week break every month. We eventually secured the referral, and my surgery was scheduled for 12:30 on December 27th, with a separate appointment that morning at 8:30 to get the PICC removed. When I told my home infusion nurse, she arranged to come by that evening (after her company holiday party, even!) to pull the PICC so we could get the wrappings off me and let my skin recover a bit. We love Deena, she's rad. It was surreal to see her pull the line…it kind just kept coming out, like a magician's scarf of surgery and horror. It was MUCH longer than I'd thought. And it was friggin' DELIGHTFUL to have all that out/off. And the shower I was finally able to take was goddamned MAGICAL.
I received a call from St. Vincent's hospital the next day – the surgeon I'd been scheduled with wasn't actually going to work that week, could I go to Providence Portland instead? At 9:30am? Sure, no problem. The next day, they called again – sorry, could we make it same time, but back at St. Vincent's after all? No problem. J worked that day, so I asked my sister-in-law-of awesomeness Jeanette to be my ride.
And then I made a terrible mistake.
OK so I'm a smart person, and with intelligence comes curiosity, and I wanted to know exactly what I was in for with this port. I watched a video of a woman demonstrrating how to access a port; no big deal, kind of persnickety with regards to keeping everything absolutely sterile, but whatevs. And thennnnnnnnnnn I watched a video of a port install surgery. OK, I am not really squicked out by surgery, and I found the whole thing fascinating until the phrase "BLUNT DISSECTION" came up, and the surgeon LITERALLY TORE A HOLE IN THE PERSON BY JAMMING HIS PINKY IN THE INCISION AND WIGGLING IT AROUND. HOLY FUCKBALLS. My brain went NOPE, FUCK THAT, FUCK THIS, AND FUCK YOU FOR SCHEDULING THIS MOTHEFUCKING MEDIEVAL-ASS SHIT. Intellectually I knew it was fine – MORE than fine, because I was gonna be hopped up on Versed and remember NONE of it and get some good drugs afterwards – but the actual crux of the mistake had been watching this video righe before bedtime, so my brain just did donuts in the parking lot for awhile.
The morning of the surgery, I got a call from the hospital – would I mind coming in early? It was 8:30 and I was scheduled to check-in at 9:30, so I was a bit confused, but I told them I'd be there as soon as I could. We parked too far away and I was a sweaty mess when we arrived at check-in, where I was told…I was scheduled at the OTHER hospital, still. I explained the conversations, they luckily sorted it out. I went upstairs, put the goofy little gown on, and waited. The nurses came in, partly to take vitals and start an IV and make sure I wasn't pregnant, and partly to play peek-a-boo with my adorable niece. The doctor came in to introduce himself and ask if I had questions. he was delighted that I referred to the Huber needle I'd be using to access the port as "the crooked needle". I was delighted by his use of the phrase "twilight sleep" to describe the conscious sedation I'd be under. They'd give me benadryl in my line along with the sedatives and a dose of antibiotic, he said, hopefully I'd just sleep through the whole thing.
I remember them wheeling me into the surgery, and seeing the GINORMOUS fucking monitor he'd be using to make sure he was placing the port properly, with x-ray. It was weird to see my name there. The several nurses had their A-Game banter going, and we were having a great time explaining names and tattoos to each other. One nurse thought I had an accent, and asked how long I'd been a Yankee. "My whole life?" A male nurse/technician/whathaveya scrubbed me down with a blue solution, making me the world's least convincing Smurf. I was freaking cold, despite the warmed blanket they'd put over me. The IV nurse told me he was putting the antibiotics in my line now, and I felt the cold sting. he told me he was starting the sedative now, and then I…
I do not remember a thing after that.
I woke up with a very large image of my x-ray on the monitor, showing the line running into my artery. I was shivering. They wheeled me back to the recovery room, and I slept a bit. Jeanette had taken my niece Jewel to get some lunch or something. They brought me a turkey sandwich, which I devoured. They had put the dressing on a bit shitty; I couldn't raise my head all the way, or turn my head much because of the way my skin was taped up. It itched a bit. I was given discharge instructions and no pain killers ("Just take some Tylenol"). My sister came back, I got dressed, she took me home, and I slept some more.
The next morning I was aware something was up. I was naughty and pulled the dressing off a bit to allow myself the ability to raise my fucking head, and where the dressing had been tugging was now an angry red wound. I was very itchy. All over my chest. Angry red hives, all over my chest, up my neck, and across my chin. Tylenol, it turned out, did not fucking suffice, so I took some of the hydrocodone I had leftover from breaking my ankle that the doctor hadn't wanted to give me either because ibuprofin should be fine. YOU JUST TORE A HOLE IN ME BIG ENOUGH FOR A 1 INCH SQUARE MEDICAL DEVICE AND ALSO CUT MY NECK TO SHOVE WIRES INTO MY VEINS – NEWSFUCKINGFLASH TYLENOL AND IBUPROFIN ARE NOT SUFFICIENT FOR THIS. BLUNT. DISSECTION. BITCHES. I slept some more. I woke up to even angrier hives, annnnnnnnnd my eye was a swollen bag of fluid.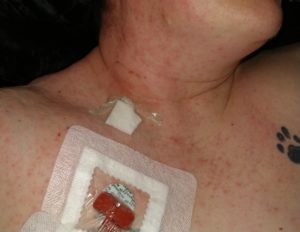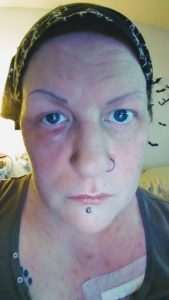 So uh…yeah. I was having an allergic reaction to something. It couldn't be the dressing itself, since the hives were everywhere. It got worse and itchier over the night. I had a different IV home nurse visit that day, to change the bandage since they'd thoughtfully left a needle in the port for me to start the infusions, but I'd bled a bit so there was gauze under the dressing which needed to go. She was very concerned about the reaction, namely that it might be a reaction to the port itself. My delightful friend Lizzie was coming over that day with delicious food for me, and she kindly picked up some Benadryl on her way in. Luckily I had a doctor's appointment already scheduled for the next day, for an unrelated issue and holy FUCK will I rant about that in a bit. I took Benadryl, ate delicious home made food, and slept a lot.
My PCP is a cool guy, and didn't mind dealing with the reaction as well as the initial problem we were scheduled to deal with. He suggested two more antihistamines in addition to the Benadryl, and to contact the hospital if it didn't clear up by Tuesday (Monday was New Year's). Luckily it did, mostly. I think the problem was the smurf shit they scrubbed me down with, since the hives pretty much appeared everywhere they used it. I have no explanation for my eye becoming a blister, tho.
We've now completed the second round of infusions, the port works beautifully, and we pulled the needle out last night. I am once again dressing-free for two weeks. The scar is already nearly healed up, and the itching has almost entirely subsided now that I've got no more adhesives on me. I can feel the port under my skin, and it's weird.
Now I am become cyborg. beep bloop bleep.