As usual, I can't tell you exactly why it happened, what was the mechanism, only how it happened. I was in the bathroom, turning left at the sink, and I went down. Despite having a death grip on my walker, I fell to my knees with my feet doubled up under me. I'm getting pretty good at falling, but I was immediately aware that Something Was Amiss.
What happened next was a full five minutes of writhing and howling on my bathroom floor while my two cats freaked the fuck out. Now, I have a pain tolerance that has impressed doctors. I developed dry socket after a tooth extraction and was so unreactive when the dentist was packing it, he had to check that I hadn't passed out. But this? This fucking hurt. There's a difference in your body, when you've hurt yourself versus really fucked something up. A primal signal somewhere in your animal brain of "oh shit we have done it now." Outside of a few memorable migraines, I've never been in so much pain. My stomach was queasy and I was visibly trembling as I tried to sit up, tried to breathe. Shivering. Panicking. Every movement spurred a fresh tirade of wordless howling, one long string of OWWWWWWWWOWOWOWOWWWWWWWWW and I'm honestly surprised that the neighbors didn't call the police.
…I'm kinda pissed off that they didn't, if I'm being honest. I know they were home, and I know how well sound travels across our apartments, and the fact that I was yelling myself hoarse (literally) and no one came? Pretty pathetic.
I tried to text J with my SmartWatch O' Doom, but it told me SMS was unavailable. The shit, watch?? WE WERE SUPPOSED TO BE A TEAM IN EXACTLY THESE SITUATIONS. THIS IS WHY I BOUGHT YOU. I knew I could call him, though, or even 911, with the thing, but I resolved to try to at least give myself a few minutes to breathe and calm down and hopefully the pain would subside enough where I could think straight. I'd call J if I couldn't get myself off the floor, and text him if I could. OK. Think. Plan. Move. Slowly.
I still don't know how the FUCK I managed to get myself on my bed. But I did. I messaged J that I'd hurt myself and thought I needed to go to urgent care. My ankle was already puffy, and my poor previously damaged knee was pissed off again. He offered to leave work immediately, but I told him I could wait the 90 minutes for his shift to end. I didn't think I broke anything, but even if I had, 90 more minutes was not going to make it more broken.
PROTIP: BROKEN LIMBS ARE NOT ACTUALLY LIFE-THREATENING EMERGENCIES. THEY JUST SUCK.
I popped three Advil and waited. The trouble with ALS is that you can't really inspect yourself for a break – I can't wiggle my toes on a GOOD day. It felt like a sprain, but I had no real frame of reference as I'd never broken a bone before. Everything still moved, no grinding feeling, it just hurt like hell. I hoped it was just a sprain.
Basically, I was fucked if it was a break. I'm already reaching the end of my ability to get around with a walker. I can't use crutches, so a cast – or God forbid SURGERY – would pretty much be the end of me walking, ever. It would mean a wheelchair during recovery, after weeks of which I likely wouldn't be able to get back on my feet. I tried not to think about it too much, and waited. Whatever I did to myself, it was bad, but I optimistically didn't think it was THAT bad.
J came and got me, he helped me put clothes on (it was a Work From Home day, I don't put real people clothes on when I don't have to) and on to the walker so he could push me out to the car. It was about 5:45 when we got to Urgent Care. He got me into one of their wheelchairs and inside, and we waited. They took us back to a tiny little room that wasn't big enough to turn the wheelchair around in and we waited. They moved us to a bigger room that we COULD turn the wheelchair around in and we waited.
See also: Broken/Sprained Limb = not life threatening emergency.
The doctor finally came in and did the obligatory I AM GOING TO HURT YOU A LOT BY PRESSING AND PULLING ON YOUR HURTY BITS AND ASKING IF IT HURTS torture session. Palpitation damnation! He recommended an x-ray of my ankle, which was turning quite purple by then. He seemed unconcerned about my knee, even though I told him it also hurt a lot and had been previously injured. Luckily, there was an x-ray lab onsite so I was able to get that done right away.
…Well I SAY right away, but the x-rays took forever because I fucking have ALS. Why NO, Nurse, I can NOT stand up on one foot to get on to the x-ray table. And your little 5 foot nothing ass is not going to be much help. Also not helping? Being in so much pain I've got cold sweats so my palms are slippery, so it takes like 8 tries . Once we managed to get me on the table, it was still a conversation about no, I can NOT just lift my foot a little to the left. I HAVE ALS MY FEET DO NOT WORK LITERALLY AT ALL. I CAN NOT FLEX MY TOES. I CAN NOT TWIST MY BODY THAT WAY, I CAN NOT ROLL OVER ON MY SIDE WITHOUT A GRAB BAR. FOR MEDICAL PEOPLE YOU SURE AS SHIT ARE NOT CAPABLE OF HANDLING PEOPLE WITH MEDICAL PROBLEMS.
We finally got the images she wanted, and then I was wheeled back to the room to wait some more. The three little Advil I'd taken had worn off their little edge-blur loooong ago.
The doctor returned in a little bit with a printout of my x-ray. "Have you previously injured your ankle?"
Confused. "No?"
He gave me a sympathetic look and handed over the x-ray. "I'm afraid it's a fracture." He showed me the little chip of bone that had broken away.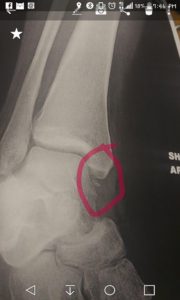 FFFFFFUUUUUUUUUUUUUUUUUUUUUUUUUUUUUUUUCCCCCCCCCCCK.
FUCK FUCK FUCK
He started talking, about making an appointment with the orthopedic specialists, about how they would splint it for me tonight in the meantime, how I was to Stay The Hell Off Of It. I asked if I could have some pain killers, maybe? and he said he'd give me a couple of tablets, sure. He left to write it up, telling me that the nurses would be in momentarily.
When we were alone, J asked if I was okay. I'd voiced my concerns about never walking again, and I wasn't sure. Mostly I just hurt. The supercool nurse assistants came in, splinted and bandaged me up, and brought me the scrip to hand-carry to the pharmacist. I was free to go. We got milkshakes on the way home. J was amazing as usual and got me settled in and medicated and hung out with me for a little while, and then I slept.
Turns out breaking a bone hurts a lot and sleeping doesn't make that go away. Especially when you need to elevate a limb and oh, what do you know, you have cats that like to stand on high places! WHAT THE SHIT MOLLY. I worked from home a bit the next day, I had lunch with J and my friend Eric when they brought me food, but mostly I slept. I made an appointment with the orthopedic specialists for the next day, to determine the next steps.
That turned out to be a ridiculously short appointment, because there was precisely fuck all we could do about the break, turns out. I had essentially sprained my ankle SO BADLY it pulled a chip of bone away. The chip was too small to screw back in without it disintegrating, so no surgery needed, and the damage was in such a spot that a cast would be useless. I was given a brace that hurts like the devil to wear and told to elevate, ice, medicate, until I felt like I could put weight on it.
I…guess that is the best outcome. I won't be disabled by surgery or medical equipment, only by my tolerance for pain. For now, I'm mostly kicking it in bed with my foot propped up, mostly weaned off of the Norco, traveling by wheelchair as needed.
Oh. yah. Wheelchair. BECAUSE MY FUCKING WALKER BROKE ON SUNDAY. AAAAAAARRRRRRRRRGH.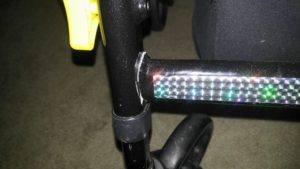 J went out and bought my new one today. I will sticker that bitch up, too. And hopefully, soon, be using it to walk with for a little while longer.