That was the longest break I've ever taken. Between no longer having a job, and COVID warping the reality of time itself, the last three months have gone by in an instant and an eon at the same time.
It's been long enough I think I need to do a general check-in. So that's what this blog post will be all about. If you don't care, that's totally cool and I will have something else for you very soon.
Strength
My FRS scale has gone down a point or two. I'm beginning to notice weakness in my arms now. I can still wiggle my fingers and grasp things between my first finger knuckle and my thumb. That's going away though. My laptop is becoming too heavy to manage. I can still just about move my toes, I can't kick with any real strength, but I can stand as long as I'm leaning heavily on something else. This means I can use the walker for a step or two, but I haven't tested anything longer than a couple steps lately. There's not really any way to pick me up off the ground if I fall, here, so I'm not going to take stupid risks. I'm still able to transfer myself to my wheelchair, and to the toilet from there, so I'm still pretty independent. I can still write a little bit, especially if I'm using a special pen that one of my blog readers was kind enough to send me. Along with some lovely edible treats. The pen she sent me is a kind of crutch for my finger, and it is much more easy to control with fingers that are weak. I'm not going to be writing any new novels anytime soon, but I can still sign my name and fill out short forms.
Breath
For the longest time, we weren't able to test my breathing because Covid. When you're dealing with a disease spread by droplets and aerosols, the last thing you want is someone purposely and forcibly blowing air into your face. Last month during my medical trial though, after getting a Covid test to prove I was clean, we were able to test my forced vital lung capacity. The Covid test sucked so bad. They dug around in the very back of my sinus cavity and I felt like I was a dead body being prepared for mummification and they were going to pull my brain out through my nose. I was coughing and sneezing and I watery for a couple of hours after the test. It sucked, is what I'm saying. The last time we tested my breathing back in March I was at 52%. When this all started I was at 115%, to give you an idea. This last trip I tested at 46%. Quite a drop. I am definitely feeling this change, I am so much more easily out of breath. I am still breathing okay this, I only noticed when I exert myself somehow. If I lose my breath it takes me a bit longer to catch it back. There's no need for breathing apparatus yet, except the AVAPS machine that I use at night. I've still got some time.
Eating
I need help cutting up my food, but I can still feed myself. I have not begun choking on food or having things go down the wrong pipe – at least no more than average people do. It's awful when I do choke on my own spit though, because in order to get my breath back I have to take these huge ragged breaths in to be able to cough it out, and it makes this horrible death rattley noise when I do it. It scares the living shit out of everyone around me, and I don't have the breath to explain to them that I'm all right – as long as I'm choking I'm still breathing – but it's gonna sound like I'm dying for a minute. Which is not to say that I'm not also scared, being unable to breathe is one of the worst things in the world, but I know that the choking is only temporary. And even if I do pass out, there's a couple of minutes before any possibility of brain damage sets in, and my airway will probably be cleared out by somebody attempted CPR and up be fine again. I have not had to make any concession to the disease with regards to how I eat. So far, we haven't had to make any concessions to the disease in regards to what I eat, either. I am still fat under medical advice. I have an obscene amount of junk food in my room for snacking on. I mean, obscene. I've got a little three drawer shelf unit full to the brim, and two square baskets that slide into IKEA furniture full. I have a habit of craving something obscure, and then allowing myself to get that thing because fuck it, I'm dying, but the only way I'll be able to find it on Amazon or wherever is by the case. So now I've got a case of whatever. People also gift me edible things all the time, because they are amazing, and they don't want to burden me down with material things but they do want to give me a present. Candy is perfect in that regard. And I love it. I love it all. The problem is I don't actually eat that much junk food, so will have a couple of pieces of whatever and then it just sits here while everything else piles up around. Hence, three drawers and two baskets. This isn't a complaint, at all. I love candy. And obscure Australian treats, and macadamia nuts, and pop tarts, and marzipan, and Lara bars, and Apple chips, and every other thing that is currently shoved in to my little space. Love it.
Speech
My voice is becoming affected. If I talk for too long my voice goes a little wobbly and raspy. This is most likely due to my breathing more than anything, there isn't enough breath being forced out when I speak to make my voice strong. I can still enunciate properly, and get my point across. But something's happening there.
Mental
ALS doesn't really affect your cognitive behavior, which is all at once the best and worst thing about this disease. You retain your faculties, but eventually you become trapped in your own body with no way to communicate, still perfectly aware and understanding of everything around you. There are some cognitive issues possible though, and I'm wondering if I'm having problems with that. It seems recently that I have much more of a problem getting my point across because my thoughts are so scattered. It could quite possibly also just be ADHD or something, but I've never noticed it so much as in the last year. I have lots of other ADHD traits so who knows. I was never formally diagnosed with that but I also never formally sought out a diagnosis for that. My brain has always gone very quickly in circles and I seem to say something completely unrelated to what we were talking about; but I do have a definite path that I used to arrive at what I said. We were talking about chocolate, which makes me think about dogs being unable to eat chocolate, which makes me think about a cute dog video I saw with a dog biting at a stream of air from a compressor, which makes me think of really windy weather, which makes me think of another video of an umbrella rolling down the beach with dramatic music, which makes me think of going to the beach. And that's why when you say "I really like this dark chocolate", I respond "we should go to the beach soon". There's a path there, a definite way I arrived where I did, you just don't see it. Lately I am having trouble even explaining that path out loud, even though my brain understands completely.
Emotional
This one. This is the one I'm struggling with the most, if I'm being honest. I have the absolute worst time being unable to help myself. All my life I have been entirely self reliant, and any help I accepted was on my own terms. I obviously don't have that luxury anymore. Friends come over and help me unpack, and I can literally do nothing to help them, and that eats at me. Even though I know they don't mind, and are even happy to do so. I sit here in my room and see something that needs to be done, and it would take me all of five minutes to take care of it forever if I were able-bodied. But I'm not. And so it must become this hour-long effort to get someone here with enough time to spare, and explain what needs to be done, and then have them do it. And so much remains undone because it seems so stupid to call someone in here just to push a thumbtack in that had fallen out of the wall. It is frustrating in a way that I have never thought possible. And it absolutely eats at me to know that it's just going to get worse. More than my own death, I fear being a burden. And my friends and family can say all they want, that I'm not a burden, but I will never be able to believe that. And that's just how it is. Still, I have many more good days than bad days. I try to take things at face value as they come and be gracious about the help I do receive. I mean, I'm still going to completely obsess over it mentally and examine it from every angle in minute detail And stare at the ceiling until 3 o'clock in the morning thinking about it, but… um… Where was I going with that.
Anyway.
House
We are slowly but surely getting into this house and settling in. It is taking an excruciatingly long time because of the three people living here only one of them is able-bodied and he has a job. Thanks to some amazing friends who have come over to lend a hand, we are much further along than we would otherwise be. For example this is what my study looks like now!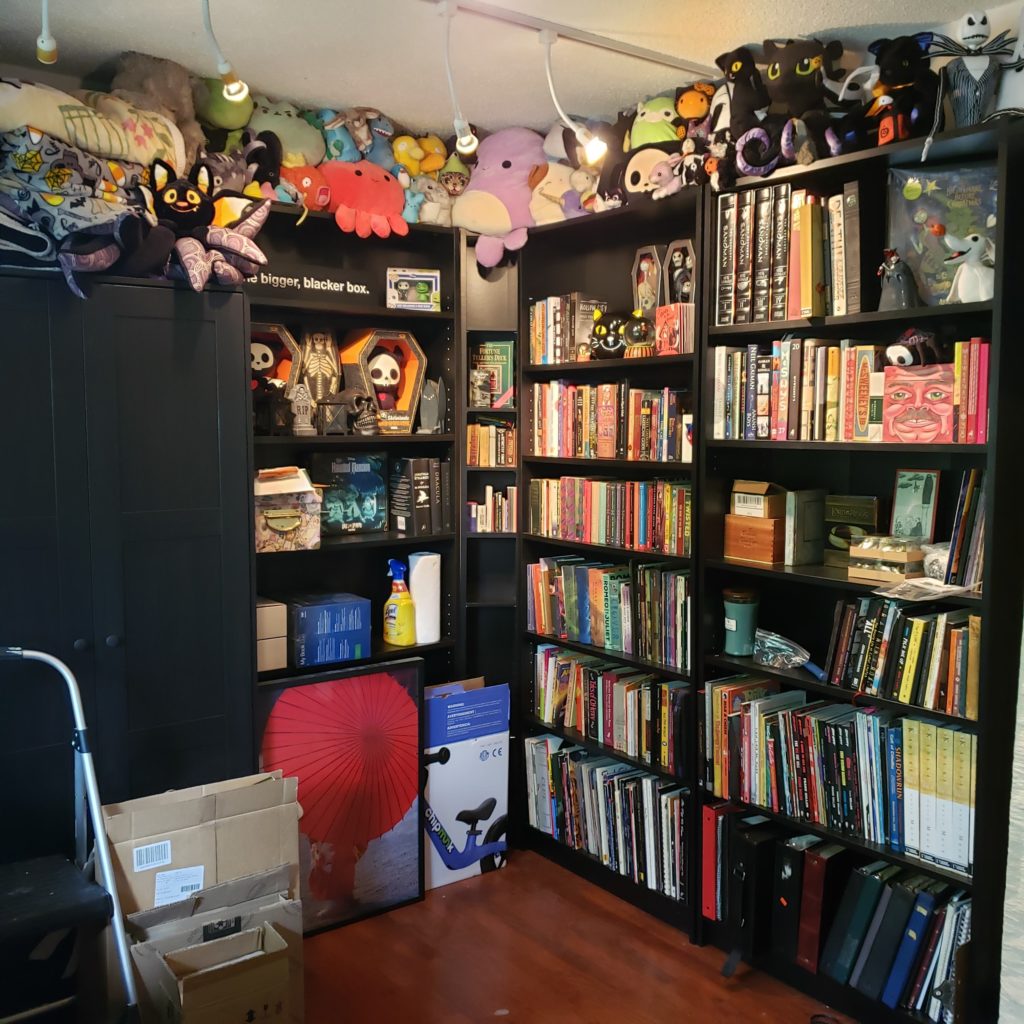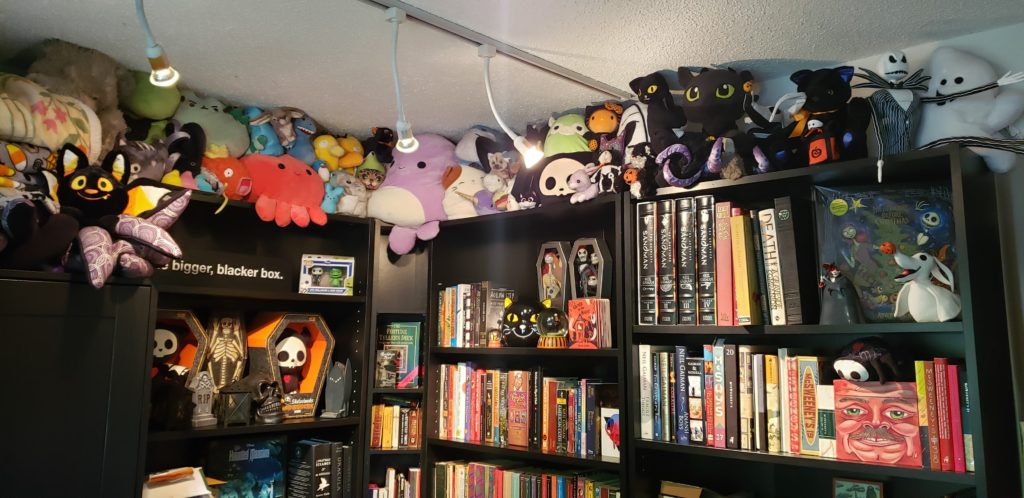 Neato torpedo. The place is actually beginning to resemble my living space now. We've been pulling things out of boxes that I haven't looked at in over five years because they were packed up from the house that I owned and then just put into storage while I lived in the apartment. It's nice to be able to go through these things, and get rid of so much. My friend Tamra did all of the work you see up there. She is absolutely an amazing person and I'm lucky to know her. We have some semblance of the living room, rather than boxes piled upon tables and couches, you could almost sit in it. We are still discovering the um.. Character that this house has. Like the skeleton of a rat in a rat trap in the crawlspace. And the very interesting decisions or more owners made in regards to the electrical wiring. And duct placement. Our back porch is still a mess of boxes and other things needing to be sorted and there's an entire storage unit out there, full of even more stuff from my old storage that we need to go through. We are taking it a little bit at a time. This house feels much more like a home now, already, and it will only become homier.
Travel
I am still participating in a medical trial which necessitates traveling by plane to San Francisco once a month. It's usually a two or three day trip, but it seems to take half the month to prepare and recover from it. As per my previous post, traveling in a wheelchair is not easy. I can't tell you much about the trial itself, except that I do undergo a spinal tap each and every time. It's… becoming routine. Which is not something I ever thought I'd say – spinal taps aren't something I would ever think someone could get used to? But here we are. I can, however, slip you this link which details some of the preliminary findings of the trial in general. The results are looking pretty good.
Outside influences
I have to keep all of my mental and emotional facilities trained to what's immediately around me, because the outside world is pretty fucking scary right now. I live near Portland, which the president is trying to paint as a lawless expanse of criminals and terrorists, but really there's protests happening in two square blocks in the inner city and the damage is mostly confined to the federal buildings. Driving through downtown is not unsafe. The president has promised a tax break should he get reelected, which would mean disability becoming unfunded by next year, so I'm pretty scared about that. I'm really scared about the slide into fascism that our country is taking and the wannabe dictator going unchecked when he says really dangerous shit. Some really scary shit going on outside and I can't do anything about it, so I do my best to bury my head and just not think about it. Sometimes that works. Sometimes it takes Ativan. Otherwise I spend every waking minute angry and terrified. I cannot wait for a time when a week can go by and I don't even think about the president. I hope I live to see that.
Overall though there's nothing too horrible or too awesome to report. I'm settling into the new normal at the house, settling into the new normal of my disease day by day, and settling into a sort of routine. One of my absolute biggest stresses was finding a house, and getting this place has helped immeasurably. So I don't really have all that much to complain about. Overall I'm doing pretty good. I still feel like I have some time. I still have things to do, things to say, cats to pet.
And all this junk food to consume.