I got hit by a car on Saturday.
If I did not have this stupid disease, it would not have happened. I was alerted to the car in time, and had I been able-bodied, I would have been able to blithely move out of the way, probably with an angry yell and discourteous finger gesture at the driver. But instead, I heard J's dad yell, and looked over to see backup lights on a car I hadn't realized was even parked there, and tried very hard to get out of the way and failed.
If I had to be hit by a car, this was totally the way to go. It was the gentlest of impacts ever, the equivalent of someone slowly leaning on me until the walker got pushed over and me with it. I scraped up my knee and my elbow, and got a little road rash on my hand. That's all. The worst part was spilling my breakfast leftovers. J's dad banged on the trunk of the car to alert her to our presence, which brought her to a stop; if he hadn't, I'd likely have been hurt worse. The car and my walker traded a little paint, instead of her going over me completely.
The next twenty minutes were a blur of being asked a thousand times if I was hurt, was I sure, did I need an ambulance, was I okay, are you sure. I told them I was basically just pushed over, it was the tiniest of falls, and J's mom helpfully reminded me it was "just a fall" that broke my ankle. Thanks, mom. The woman who hit me was beside herself with mortification, and made sure she gave me her information just in case the next day I wasn't feeling okay. She was using someone else's car, she said, and was used to a backup camera, though I was standing behind and to the right of her parked car; had she used the side mirrors she would have seen me. I can't fault her too much, though, it is a TERRIBLE parking lot that requires you to drive on the sidewalk to back out. It is exactly the length of a car. So, of course in my brain, it's perfectly safe to have been standing where I was, because I was on the sidewalk – but to her, I was standing in the driveway in a bit of a blind spot.
I told everyone my main concern was how the hell I was going to get off the ground – there was J, his elderly parents, his elderly aunt, and his cousin who was small. The driver was also a shorter woman, and the bystander who came over to help was similarly small.
Turns out the driver was a paramedic, and we had NO trouble getting me off the ground. I told her it was okay, I was fine, and at least she had a story to tell.
"Are you KIDDING??" she asked incredulously. "I'm not telling ANYONE about this."
And she probably won't. She had someone in the car with her, and I wouldn't be surprised if she swore her to secrecy. A lot of my friends (I love you vindictive, protective people) expressed wishes that she feels guilty FOREVER, and my little brother even offered to "Tonya Harding her". The guilt she feels is more than adequate punishment I think; as my little brother also said, "backing into a cripple is the same as running over a normal person at a hundred miles an hour."
Thanks, Justin. <3 The next day, the soreness kicked in; my shoulder's a bit stiff and my lower back apparently got a bit twisted. But still - I get to tell people I was HIT BY A CAR!! and all I came away with was a little soreness and a knee scrape the size of a quarter. This morning I saw the bruise on my hand come through - I dunno if you can see it: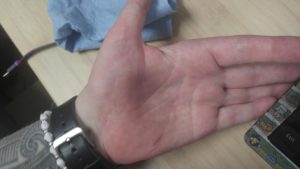 The two slices are from something else. Though, I had a severe shock this morning, looking at my palm, and realizing how much of my hand has completely atrophied. There's supposed to be a big fat pad at the base of your thumb, and mine is actually concave. I have to use my other hand to hold my fingers open to even look at it. It's a very strong..I don't want to say body dysmorphia, since my deformities are real and not perceived..maybe body horror? Unrealism. It's strange to look at the changes my own body is going through and feel like I'm wearing someone else's skin sometimes, because that's NOT how I remember my hands. And yet, they're mine. Definitely attached to me, only showing physical deterioration of the strength I perceive slipping away.
But anyway. I got hit by a car. I was then reprimanded by my loved ones for hurting myself AGAIN, and specifically admonished to "stop having so many woes and calamities".
I'm surely trying. I think I've filled my quota for the year. My drama card is full of punches, so I think I get a free latte or something. BUT. I'm okay. I got hit by a car and sorta walked away. I'm very lucky.