The latest word on the street in ALS Land is Radicava.
It's a new, FDA approved treatment, and we're all pretty dang excited about it because there's been nothing new AT ALL in 30 years. All we have is riluzole (brand name Rilutek) which you take twice a day and maaaaaaaaaybe gives you another six months or so? Or maybe destroys your liver? Other than that, the only treatment is really an attempt to mitigate some of the symptoms, like the muscle twitches ('fasciculations') and cramps, your muscles locking in place (spasticity), the complete fatigue because everything is a lot harder when half the muscles in your legs are gone, depression and anxiety – because it's not really the five stages of grief so much as the five constantly cycling whirlwind moods of grief. Sometimes I hit them all on the same day.
Radicava (generic name edaravone) isn't a miracle drug, by any means. It's completely ineffective for a lot of people, and at best gives just a 33% reduction in the rate of decline. It has a lot of issues, of course, it can cause problems in people with asthma, and well..it's expensive as all hell. I'll get to that in a moment. For now, here's the basics, if you want to read some more, and here are some of the naysayings about it.
Me, though, I wanted to try it from the get-go. I've been abundantly clear (or so I thought) that I am willing to try any new treatment, just to be doing something, to provide a little more data for future research, if nothing else. Every Clinic Day, we asked about the latest updates, the most recent news, when is it available. And so I was frankly…crushed, and a bit angry when I found out at last Clinic that people have already been trying it and I wasn't contacted. That anger increased when they seemed surprised that I was interested in trying it. Like..how could I have been more clear?
Anger turned to rage when I was told that insurance would not pay for it. Because..once again..I have had ALS for too long. Because statistically, I should be dying any minute now. The average life expectancy is three to five years, and I hit three years in April. Never mind in actuality I'm still VERY MUCH alive and not going anywhere soon, thenkyouverymuch. And it wasn't the pharmaceutical company denying me, it was the insurance company. I wasn't worth the cost. If I'm statistically almost dead already, it's not cost effective for them to pay for this. You'll recall I said it was expensive – let me show you how expensive. Radicava is administered by infusion. Each infusion lasts for about one hour and administers a 60mg dose. The cost for each infusion is as follows:
The medication itself: $1238.80
The medication to flush the IV/PICC/port line into your vein: $180
If you do in-home infusion, the nurse's time costs $251.20 for the first 2 hrs, $86.10 each hour after if needed
If you go to an infusion clinic, the cost for nursing is $107.10 for the first 2 hours, $50 after.
Now, since it's not easy to get anywhere and do anything with ALS, we'll go with in-home infusions, so that is $1,670. Per dose. How many doses do you need? Well, you start treatment with 14 consecutive days of infusions. That's $23,380. Then you take 14 days off. Then you do 10 consecutive doses over the next 14 days. Then 2 weeks off. Then 10 over 14. For the rest of your life. It's over twice what I make a year, to use this drug. As much as I hate it, I get why insurance would consider this a dumb investment. I hate that that is even a consideration in whether or not I have access to this.
Knowing that I was going to get denied, I asked to try anyway. I filled out a form giving the infusion clinic access to my medical records, on the off chance they could use this to leverage my insurance company to pony up some dollars to help a dying girl out. Monday I got a call from Searchlight, the company coordinating the treatment, and they said that typically my insurance covered this treatment after a 5% copay. Luckily, she said, once I hit my out of pocket max, it's all covered. Did I have any questions?
"Yes," I said. "…Does this mean that I actually am going to be covered for this?"
"Well, we'll be sending your information along to your doctor provider, but it looks like we're good to go."
I dared to let myself hope. Just for a moment. I went out with J and had celebratory sushi, but said nothing to anyone else (except my mom, who was here when I got the call) just in case it was a misunderstanding.
It wasn't.
Wednesday I got a call from the nurse to discuss the actual cost, how much I was responsible for, and to start making appointments. She gave me the above price list, and we discussed would I like a PICC line or a port? Since this was pretty much going to be a regular thing, infusions by regular IV aren't an option – imagine having to get your vein stabbed every day for an hour long IV drip. Folks on dialysis, infusions, or chemotherapy usually opt for either a PICC line or an implantable port. A PICC (peripherally inserted central catheter) line goes in your upper arm, and then into a central vein in your chest. An implantable port, or port-a-cath, gets implanted under the skin in your chest and also snakes into a central vein. PICC lines are technically good for a month, though if you treat it carefully, it can last much longer. A port-a-cath is considered a permanent implant. PICC lines are much simpler to install, it's just a complicated IV insert with a chest x-ray to make sure it's done right, but a port requires at least conscious sedation. A PICC line needs upkeep once installed; it's basically two little 'pigtails' as she called it, sticking out of your skin and held in place by tape. You can't get it wet, and have to wear some kind of sleeve to keep it from getting caught on things. A port is just a little bump under your skin, no maintenance required. PICCs are easy to remove if you change your mind. You're kind of stuck with a port for the rest of your days.
So yesterday I had a PICC line installed.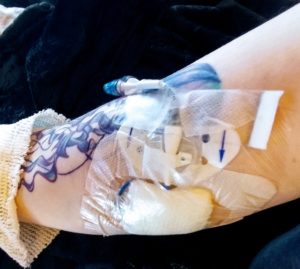 If I tolerate the meds, we'll install a port.
This is happening. Even if it does me no good at all, even if it actually makes things worse, we have tried. I am a data point. I did something. I did everything I could. I should start infusions next week.
I can't wait to keep you guys posted.