Overwhelmed. In the BEST of ways.
I've gone on and on before about how grateful I am for the support I've gotten, how much I appreciate the support I've been given, how blown away at the love I've been shown. It's probably become a little bit tiresome.
Well, suck it. There's a lot more coming.
I admit I totally got press-ganged into doing the Walk in the first place. The Veterans Resource Group had a table in the cafe at work. I stopped by to chat, and met another person who ALSO had ALS for the first time. (I've met a fair few since then. We're a small crew, but we run – or hobble or ride – in the same circles.) Part of the table's purpose, besides awareness, was to recruit people for the Walk to Defeat ALS. "You should form a team," I was told. "I bet you'd get a lot of support."
I was of two opinions on that. On the one hand, it's asking for something. I'm not good at that. On the other hand, a tiny irrational fear, 'what if I form a team and no one shows up?' While I was debating this in my head, a coworker walked up to the table to see what I was up to.
"Vashti's making a walk team, do you want to join her?"
He looked at me, "You are?"
"I…uh. Apparently!"
And that's how it started. I put up a poster outside my cube, I wore the red wristband, I talked openly and honestly about the diagnosis when I was asked, but I felt really weird about asking my friends to come over in support of me. I caved and asked my friends to help me name the team at least. We had a lot of really good suggestions, but in the end, The Godzilla Squad won out. On the 16th, I posted my team link.
On the 17th of August – the next DAY, for those of you playing at home – I was at 17 members and over $1000 raised.
To say I was overwhelmed is a gross understatement. So, fun fact! I'd never cried for joy before. I always thought it would be kind of cool if something like that happened to me, but I am not sentimental in the right ways, I guess, so it never happened. Until then.
The Ice Bucket Challenge gained serious momentum, and so did my team. On the 26th, I was at $3k and 26 people. A dear friend of mine in Sacramento also started a team in my name, Team Dinsdale. We met online waaaaaaaaaayyyyyyyy back in the day, before the Internet was a thing, when you had to dial directly in to someone's computer and leave messages on a digital bulletin board. In the BBS days, my first handle was Dinsdale.
Life continued its usual frantic pace, there was a lot happening, and before I knew it, it was the final weekend. I had four people staying at my house to attend, and one flew in from Sacramento to be here for me. I was spoiled absolutely ROTTEN that weekend, with homemade Ethiopian food of amazingness, fancyface ice cream and donuts for dessert, and the best company a girl could ever ask for.
And then, Walk Day. This is my team: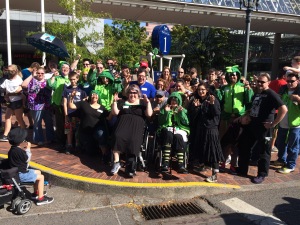 Amazing people, every one.
We gathered in a spot that was strategic and awesome until the live band started playing. Right. Bloody. There. But we were VERY easily distinguishable in the crowd with the hoodies (OMG SO AMAZING LEENDAH I LOVE YOU) and Danielle, my main babe, had printed out the kitten-vs-Godzilla picture I'd been using for my Walk page, and attached them to an umbrella. And Matt. Oh my golly Matt. He had commissioned a mighty cape of DOOM and a head cover for his staff:
IS THAT NOT AWESOME.
Yes of course it is, don't even bother answering.
There were a LOT of people there. Oh my god so many. I'm really glad I had my team around me so I was constantly distracted by OH MY GOD HI I HAVEN'T SEEN YOU IN FOREVER instead of ..holy crap I am in the biggest of big crowds and this sucks. We borrowed wheelchairs,Danielle and I, because I can walk a mile, but it sucks, and I think three is out of the question. Danielle had to borrow one because her foot is borked and it hurts her a lot to be on her feet at ALL and walking three miles is similarly out of the question.
It was a FANTASTIC walk. Well. Roll. I got pushed. The chair was surprisingly easy to wheel myself around in, but I had a lot of people willing to help me out. There'd been cold and rain suddenly, but it cleared up in time to be LOVELY for the walk day. Even a little too warm to wear the hoodies all day, for they were made of fleece and are SO COMFY AND WARM but maybe not the best when standing for a while in direct sunlight. Megan was the smart one, she held the umbrella. Some surprise faces showed up – I didn't expect my older brother there, he told me he had to work but then didn't have to! – and met a couple new friend-of-friend faces and did not at ALL have time to introduce everybody to everybody. We walked a really pleasant stroll along the waterfront, and groups connected and drifted as we walked.
We finished, exultant, and some of us stayed for a picnic, and some of us had to get back on the road.
I am so. so. so incredibly grateful. I am grateful to everyone who came. Everyone who couldn't come but donated. Everyone who couldn't come OR donate, but thought about me.
In the end, my team was 49 members strong, more than 35 of whom showed up to walk, and $5460 raised.
I've always strived to be the kind of person someone would care deeply about, and like having around. I …I guess I managed that, if the support and love I've been shown is ANY kind of indicator.
I love you all. You're amazing and the world is lucky to have you in it.