I have committed and embraced the Walk to Defeat ALS in Portland. This is a thing. It's happening. As my team is called The Godzilla Squad, it was suggested (jokingly) that we could all get these: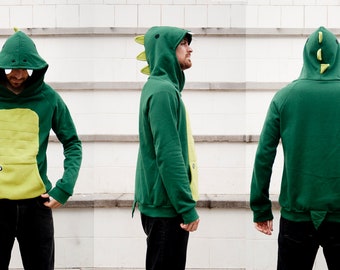 I thought that was basically the best thing ever. I said I TOTALLY needed that. Though, that thing is like $75 and I didn't really mean that; hahahah how would I justify affording that, no matter how awesome it was? Someone suggested that we make them our team costume, which I agreed would be awesome and hilarious. And then my darling friend Leendah said, "How many do you need and when?"
…I had almost forgotten that Leendah is a kickass costume designer in real life.
Long story short, she is making dinosaur hoods and hoodie sweatshirts for my team at cost.
And the amazing kept happening. People I have not seen in literally a dozen years have signed up to walk with me. My friend Marina not only donated to the walk, but offered to sponsor two people walking with me who wanted hoodies but couldn't afford the $50. My team is already 8 people strong and has raised $450. That's….amazing. Seriously, seriously amazing.
There are going to be two talks here at Intel, to recruit for the walk and to just flat out solicit donations, and I've agreed to speak at both of them. I am apparently the only person with the disease (that the ALS Association knows about) who currently works at Intel. It's one thing to say "please give us support in the name of this guy who used to work here and has died", but it's another to say "Hi. I work with you guys. You might have seen me in the halls, even, I'm kinda stand-outy. I have this disease, it sucks, please give us a hand." I'm hardly a Fundraising Warrior or anything, and I'll never be a marketer even for this – I'm not built for it at all. But if my voice can help out, then I'll use it towards this goal, while I can.
Tomorrow, for our team staff meeting, I asked my manager for permission to tell the team about it and see if any more of them wanted to join me. I'm not really asking for money, and it won't cost Intel anything, so he said okay. I'm nervous about it – I'm not good at asking people for something, as I've said, but I also realize that for a fair few of them, it will probably be the first time they've heard about my disease. And that I have it.
So THAT will be interesting. I am hoping it's a positive experience with a minimum of awkward.
This is not at all how I imagined my life would turn out to be. But I have to say, I'm not entirely discontent. Some fucking AMAZING people have come out of the woodwork, and my disease has given me some unique opportunities and put people in my orbit that wouldn't have been there otherwise. I'm really very grateful.
As usual, babies, I'll tell you how it went, tomorrow.